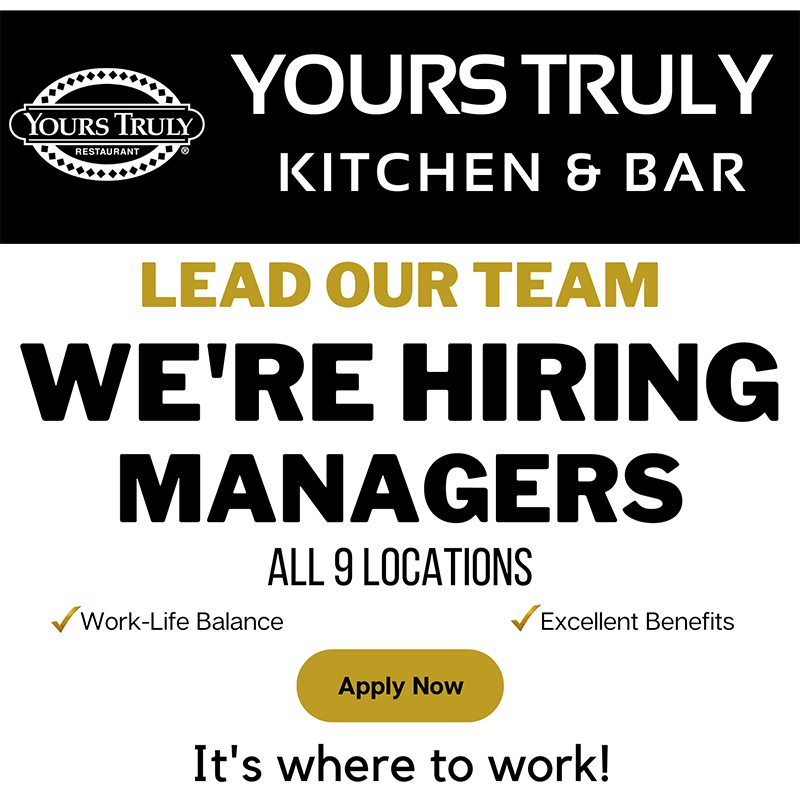 ---
We're always hiring smiling faces! Our customers are not only customers, they're our guests and we treat everyone like family. If that's your idea of hospitality, we'd love to have you on our team.
Experience isn't required and we'll work around your schedule and other commitments.
If you want to know more about what it's like to work at Yours Truly, stop in and ask any of our employees what makes working at Yours Truly special.
We are a company that appreciates and rewards good employees who enjoy working as part of a team. Does that sound like you?
OPEN INTERVIEWS every Tuesday from 3 to 5 pm. Stop in, fill out an application, and talk with a manager.
Apply online or stop in at any one of our nine locations for an application.

Management 
"I have worked for Yours Truly for nearly 25 years and have been a manager for most of that time. I met my wife here and we feel like the people of this company are family. I can't wait to see where Yours Truly will go next." – David
Heart of the house
"I started in 1993 as a dish washer. Larry Shibley hired me and he has been a big part of my experience here. Now I'm a kitchen manager. What do I enjoy most? That's easy: the people. I work with an amazing team." – Rafid